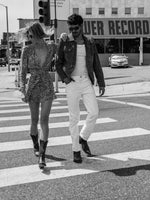 Welcome to The Sunset Strip
Cowboy boots have been associated with Hollywood, through music and movies, for over a century. At Boot Star, we strive to continue this legacy with a modern take on the iconic cowboy boot. 
In 2002 we opened our store on the Sunset Strip in West Hollywood; it is a street where Rock & Roll and Americana have converged throughout the decades. Our proudly handmade cowboy boots have always been a unique blend of that combination. The Sunset Strip has always been about individuality, beating to one's own drum and nonconformity, so what better way to illustrate that than with a pair of authentic cowboy boots?
Our collection of boots come in various styles, designs, leathers and unique finishes. We're proud to say that our boots are handmade from artisans and craftsmen that make heritage pieces that are authentic and built to last.
OUR STORY